Scholarships and Financial Aid at The Beekman School
A private school education is an investment in your child's future. The true value Beekman offers our students and their families is unmatched: outstanding faculty, class sizes averaging 6 students and capped at 10, flexible scheduling, and most importantly, an environment that is as warm and welcoming as it is academically rigorous. Reviewing the information about our high school scholarship, tuition, and financial aid options can help students from a range of backgrounds plan for a private education. 
"I have made many investments in my life, but none more rewarding than the foundation that The Beekman School gave my loving son for life. What he gained was worth more than whatever I spent on tuition." - Beekman Parent
Financial Aid at Beekman
Beekman is committed to ensuring that students from diverse economic backgrounds have access to our unrivaled, personalized program. We offer two types of tuition assistance: financial aid based on demonstrated need, and our merit-based Beekman Scholarship. 
Learn About Our Scholarship      Learn About Financial Aid
Removing Barriers. 
Creating Opportunities. 
Intoducing Beekman's Financial Aid Program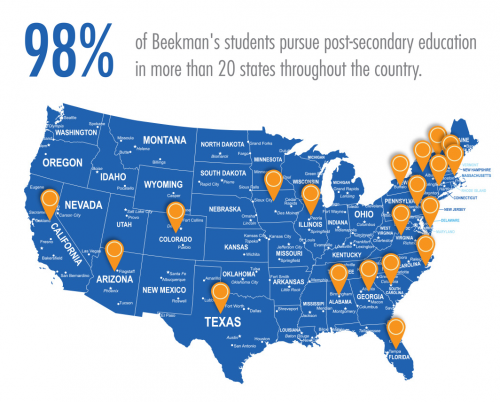 How to Apply for Financial Aid at Beekman
We partner with School and Student Services (SSS) in our financial aid process. Our goal is to provide families with access to all of the information and support needed to make the financial aid application process as easy as possible.
| | | |
| --- | --- | --- |
| | 1. CREATE ACCOUNT | Create an account and complete the SSS Financial Statement at: SSS Financial Statement. The Beekman School's SSS code is 200037. |
| | 2. ADD DOCUMENTS | After you pay for and submit your PFS, you'll have access to a section called "My Documents."*  You can upload the additional documents we require there.  |
| | 3. SUBMIT PFS | Once you submit your PFS, your information is sent immediately to us. |
| | 4. GET NOTIFIED | We will communicate our financial aid decision to you. To make our decision, we use the information from the PFS in addition to our school policy, practices, and available budget. |
 *SSS charges a one-time, non-refundable fee of $60.
Frequently Asked Questions
Who qualifies for financial aid? 
Students must demonstrate financial need and must already be accepted as a full- or part-time student at The Beekman School. Financial aid is granted one year at a time and families must submit an application for each year of enrollment. Financial aid is only available to U.S. citizens and resident aliens.
How much financial aid should I expect to receive? 
Financial aid amount is determined by two factors: the family's need and availability of funds. The award is partial and does not cover the full tuition. Families with higher earnings will have higher tuition contributions than families with lower earnings.
Are transfer and current students eligible for financial aid?
Students who have already been enrolled at Beekman without a financial aid package are eligible to apply for aid for the current and following academic year. Transfer students are also invited to apply for financial aid at the time of enrollment at Beekman. 
Is there an application deadline? 
In keeping with our rolling admissions policy, there is no effective deadline to apply for financial aid; families can apply at any time throughout the year.
Is financial aid available for students taking classes at The Tutoring School?
Beekman's Financial Aid Program is only applicable to Beekman classes. 
Does financial aid apply to fees and/or materials?
Beekman's Financial Aid Program is only applicable to tuition.