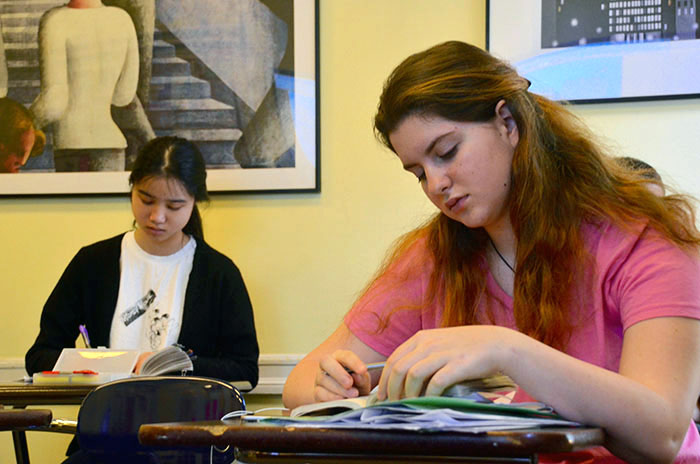 Students who attend The Beekman School in New York City receive a highly personalized curriculum and customized education. They are engaged within a challenging academic environment designed to meet their specific needs. Established in 1925, Beekman has a respected history and tradition of strong academic standards. We pioneered the flexible curriculum within a custom high school and provide a coeducational college preparatory program that is one-of-a-kind in its supportive and individualized approach to learning. Recognizing that no two students are exactly the same, our school blends custom curriculum with personal attention so that students achieve both their personal goals and their academic goals. Our welcoming high school environment is the ideal place for students to embark on new beginnings or to elevate their academics within an encouraging setting. At Beekman, we are dedicated to providing educational programs that focus on an individualized curriculum and inspiring young adults to follow independent paths to success.
The Beekman School occupies a distinctive and key space on the education landscape of New York City; we offer a traditional college preparatory program that is uniquely tailored and balanced to each student's needs. From students who are looking for a more challenging environment, to students who are pre-professional and require flexibility in their schedules, to students seeking a fresh start and the promise of success, The Beekman School can create a program that works for virtually any college-bound student. From a seamless transition into the school to a program created to fit a student's requests, The Beekman School is committed to helping students realize their academic potential and achieve their educational goals.
Each student in The Beekman School has an opportunity every semester to discuss course selection with an advisor. Specialized courses may be formed when requested to meet specific interests  (e.g. honors or advanced level, remedial and ESL courses) either through The Beekman School or The Tutoring School. If a student requires tutoring, the school works with parents to help set up a tutoring schedule. Tutoring usually occurs after school, as often as necessary and follows daily teacher-supervised study halls, built into the student's schedule.  Learn more.
Design Your Own Flexible, Personalized  Curriculum at Beekman
When high school programs incorporate a strong focus on the individuality of each of their students, those students become more eager to learn and achieve. This is why our hands-on assistance with students designing a personalized and flexible curriculum results in a schedule that matches both their current needs and their future aspirations. At every step of the way, this custom curriculum is developed for each student in our school with the student's active participation. Curricula merge core classes, which meet or exceed state requirements, with rewarding electives for personalized learning. Our high school students benefit from a custom education that delivers course flexibility as it honors individual learning styles. Why not find out more about our standout New York high school admissions process today?