As the oldest of three, I passed a lot of hand-me-downs to my siblings.  What we didn't share with each other, we donated to Goodwill, Catholic Charities or whatever organization put a flyer on our door saying they'd be around next week to pick up any donations.  The importance of being thankful for all we had and giving back to those in need was something my parents instilled in us from a very young age.  Even though we are huge Dallas Cowboys football fans, we missed the big game to participate in the annual Raul Jimenez Thanksgiving Dinner, which provides turkey and all the trimmings on Thanksgiving Day for senior citizens and the less fortunate.  It is a huge event serving over 25,000 meals.  We helped out at a soup kitchen where hunters would bring in deer they had shot that was made into venison stew for hungry families.  We worked church carnivals. We provided entertainment at retirement homes for seniors (we dressed up in costumes and sang country songs-there are pictures--don't ask!).  When I started teaching, I gave up my summers to work with Upward Bound, a program that prepares first generation college students for success.  Service has always been a big part of my life and unfortunately, it has been one part of my life where I have slacked off in recent years.  It took me a while, but I finally figured out a way to combine two things that I love, teaching and community service.  
In 2015 I created the Benevolent Blue Jays, a service organization at The Beekman School.  We're a small group, so we try to focus our efforts on smaller charities where our impact will truly make a difference.  It all started with the Artz Cure Sarcoma Foundation.  We helped stuff gift bags for their gala and made the yellow ribbons  worn at the event.  We then held a small fundraiser at school promoting sarcoma awareness and were thrilled with our ability to raise $350 for the cause.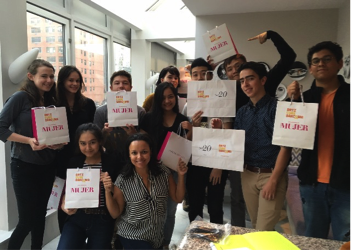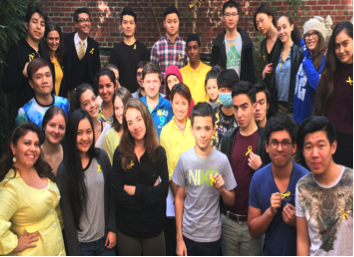 Little did we know, that was just the beginning.  Here's what we've been up to in the three short years since our inception: 
We have raised money for the Wild Bird Fund, the Humane Society of New York and Heifer International.  The students visited the Wild Bird Fund on the Upper West Side and were able to play with ducklings and see the rehab and work being done with pigeons, chickens, migratory birds, and even squirrels in the city.   We held a donation drive for the Humane Society and when we dropped off the donated goods, the students were able to meet animals up for adoption.  We put pictures of the animals on our social media sites in an effort to find them loving homes.  While there was no visit included with the Heifer International Fundraiser, do you know how great it feels for teenagers to say they helped buy a cow that will change the lives of an impoverished family?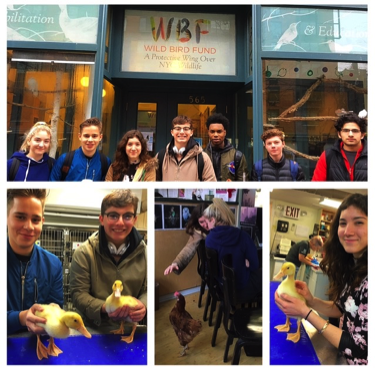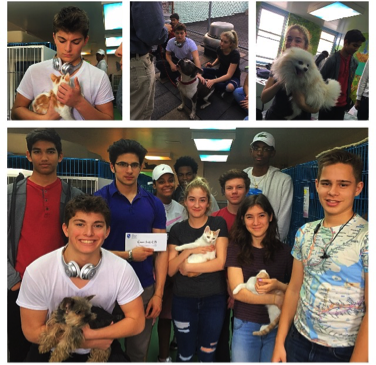 Each year we participate in the Operation Santa program with the US Postal Service.  We choose three to four letters to Santa written by underprivileged children and fulfill their Christmas wishes.  It is quite an experience to see our students so touched by simple requests for coats or shoes instead of extravagant toys.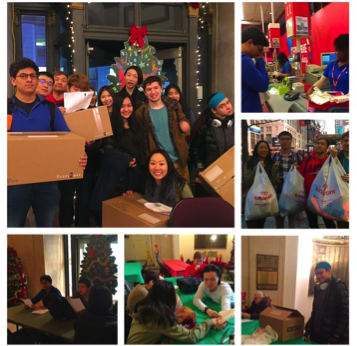 Several hours have been spent sorting donations for the Good Plus Foundation which not only provides items like clothes, shoes, strollers, and diapers for those living below the poverty line, but also offers educational programs to help families get back on their feet and rewards their efforts to improve their standing.  This year we have also started sorting donations at Little Essentials in TriBeCa which has a similar initiative.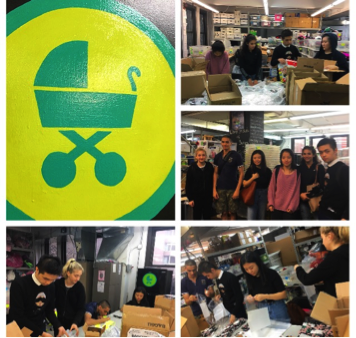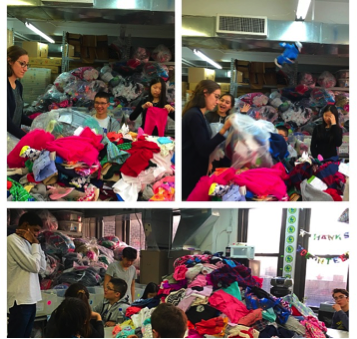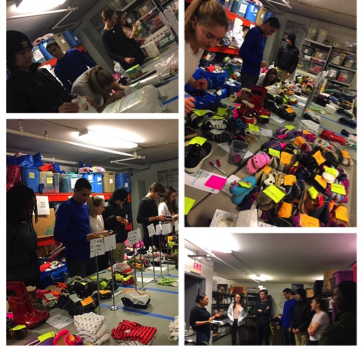 Students had a chance to flex their creative muscles in our service projects. We made finger puppets that comforted children as they waited for surgeries provided by Operation Smile, and entertained children while their parents completed intake forms in homeless shelters run by Homes for the Homeless.  We also added a little pizzaz to the scarves, hats, and gloves we donated to Homes for the Homeless.  Our creative writing skills were challenged as we wrote over 200 witty and informative messages for Post Card Pick Me Up, a program that helps cheer up terminally ill and extended stay patients.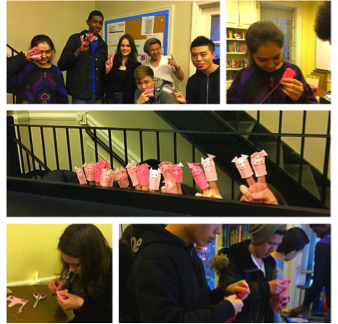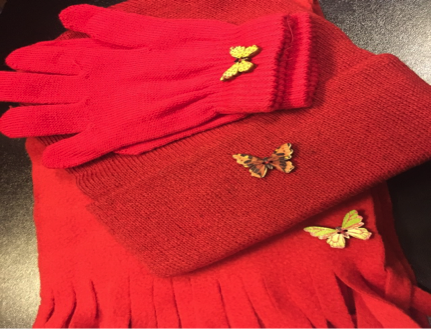 An assembly line was set up in our student lounge to pack back packs with a blanket, toiletries, pajamas, books, art supplies, and a stuffed animal for Comfort Cases, a charity established to ensure that children who find themselves in foster care have some creature comforts and don't have to store their limited possessions in a trash bag.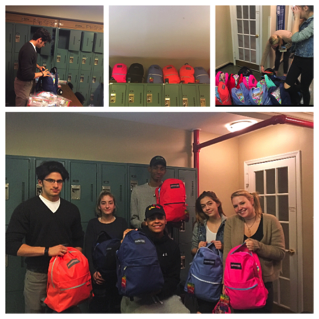 We found ourselves swimming in socks following our donation drive for Full Circle Home, a charity providing gifts for military spouses and moms whose family members are away from home serving our country.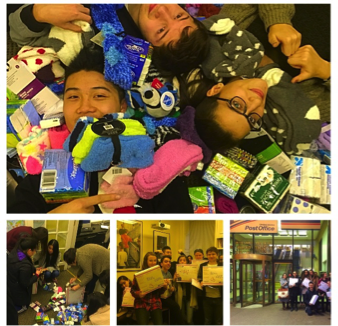 Fundraised money and goods have been donated to House with a Heart, a senior pet care facility, the Stein Senior Center, a center for active human senior citizens and Comic Relief during their Red Nose Day campaign.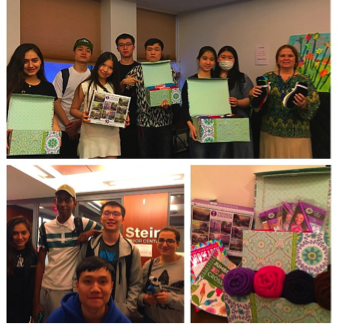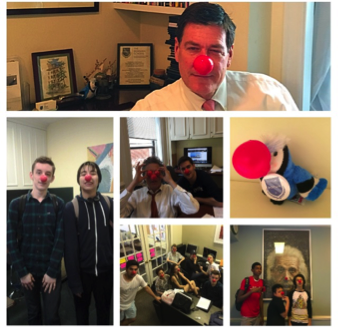 We spent a chilly Saturday morning cleaning up Lemon Creek Beach in Staten Island with NYC H2O, whose goal is to educate New Yorkers about local water ecology.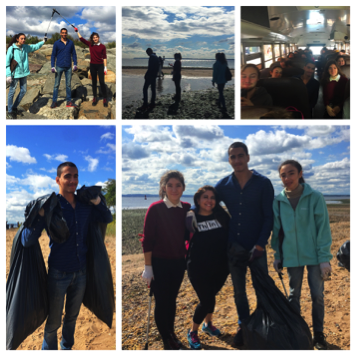 Some of us rode the Roosevelt Island Tram for the first time as we traveled to the small island to help out with Tri-State Events Hot Cider Hustle and St. Paddy's Day Fun Runs benefiting the Special Olympics.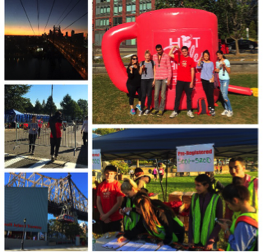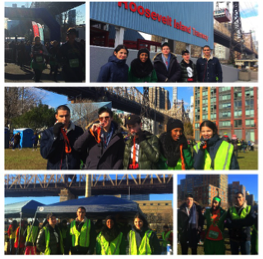 We got a second chance to work with the Special Olympics when we spent a Saturday bowling and cheering on some very serious athletes the weekend before their big tournament.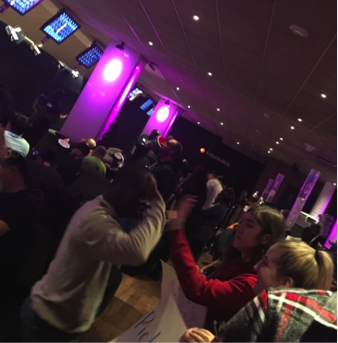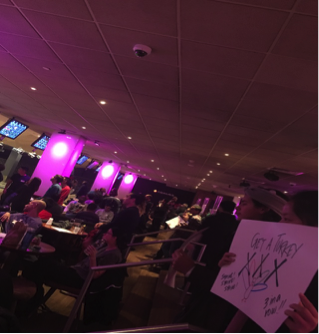 Weekends were also given up to help the Cush Foundation.  Their annual fundraiser at Barnes and Noble helps fund S.T.E.M education and opportunities for disenfranchised students.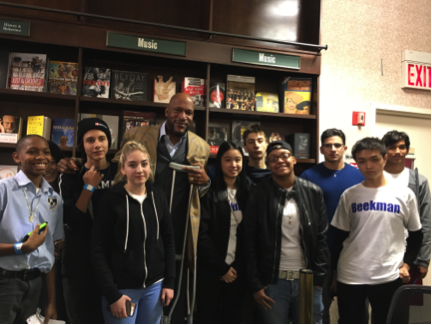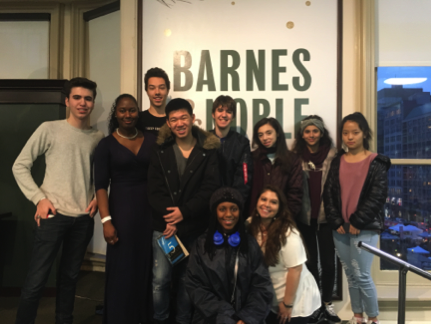 We even earned hours using our phones with the Charity Walks and Donate-a-Photo apps.
We recently helped out at the Chemo Comfort headquarters stuffing over 3000 envelopes with raffle tickets whose sales will fund production of the organization's kits provided to women undergoing chemotherapy. (Tickets are still available through May 16th--contact the school to donate and you may win round trip tickets on Jet Blue, Broadway tickets to the show of your choice, including Hamilton, and other great prizes.)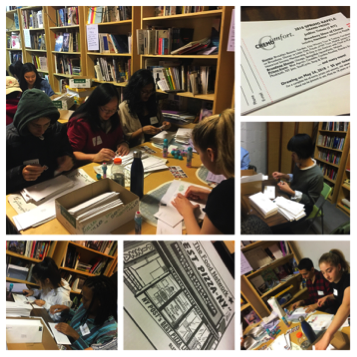 We're not done yet!  In the coming weeks we will be headed back to the Humane Society with donations and will be helping the Good Dog Foundation, an organization that helps certify and provide therapy dog services, with their upcoming gala.  
If you are a current student, join us this year for these last two projects, or next year, when we continue our work with some of the organizations mentioned above, the Central Park Conservancy, Earth Matters and several other new charities.
If you are a small charity looking for a small team of helping hands, please reach out to us as we are always looking for new groups to work with.